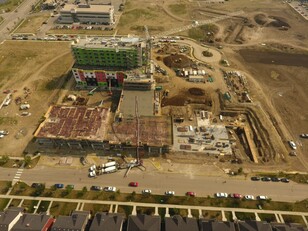 CORE SERVICE
A collaborative and creative style in working with the Owner, Architect, and other team members, and the support to help clients lead the process;
Producing accurate, reliable budgets and schedules upon which all participants can base their decisions and analyses;
Offering value analysis and suggestions early in the process to benefit the project's cost and schedule while maintaining quality and design intent;
Providing significant in-house expertise in design coordination, mechanical and electrical coordination, AutoCAD and related services.
PLANNING
We are proud of our accurate budgeting capabilities developed through our background and prior experience in estimating thousands of units of multi-family residential construction. Our database includes an array of historical data for condos and rentals, and buildings of various configurations and sizes.
COST CONTROL
Conceptual estimating at the start of the project to give an overall project budget to compare to the target;
Identification of project goals and which elements of design require special attention;
Quantity surveys to facilitate proper detailed estimating. This detailed estimating is required by the team when they review the working drawings in an effort to pinpoint details that need to be resolved or improved;
The development of detailed design parameters to clearly define the scope of work for the trades;
Input from trades, and a selection from a vast database of known and respected firms;
Further refinement and development of the value engineering methods to reduce costs while maintaining or increasing quality;
Finalization of drawings and specifications to allow for final fixed quotations from the trades.
ESTIMATING
Our initial estimates are very detailed from early on in the process. This detail and continuity allows the team to focus on areas where costs can be improved, and we can use the early budget as a baseline for tracking costs throughout the design process. Our systems budget is also a tool to communicate contemplated design changes.
The "Systems" format breaks estimates into specific systems such as "exterior walls" and "plumbing," and the many specific cost components of each system. This simplifies our budgets, facilitates "apples to apples" comparisons at each stage, and is more intuitive and reflective of the design process – all essential for meaningful budget control and option analysis.
Our estimates are based upon two major sources – actual costs of recent and current projects, and selective feedback from key subcontractors.
DESIGN ASSISTANCE
We provide three basic phases of design review and commentary, document coordination and constructability review.
CONCEPTUAL/SCHEMATIC DESIGN
We provide detailed analysis to help the design team choose building systems and materials. During this phase, we ask questions of the design to evaluate the fit and coordination of other building systems.
DESIGN DEVELOPMENT
We perform a thorough constructability review, including ease of construction, logistics, and technical (design document) coordination, from both the project management and the technical/field perspective.
CONSTRUCTION DOCUMENTS
One or two weeks before printing construction documents, we provide quality control services to ensure well-coordinated drawings and specifications. We note incomplete details, cross-check the fit of systems with one another, and verify that all details are coordinated. This circumvents many field coordination questions, thereby aiding schedules and project costs.
BRINGING IT ALL TOGETHER
We conclude with a final design coordination session just before sub bid documents are printed. We perform a week-long internal design coordination, constructability, and scope-hole audit of the design documents. This review culminates with a one-day design coordination summit involving all design participants. At the conclusion of this session, each designer is given the marked-up drawings to ensure that all coordination issues are addressed in the final documents. In this manner, we believe the documents are as thorough as can be and greatly reduces or eliminates Change Orders on the project.