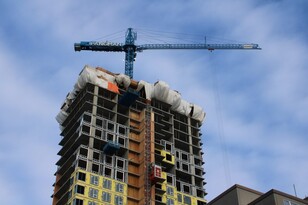 EXPERIENCE
Our vast local experience in high-rise concrete residential construction has aided us in developing expertise in construction planning and execution. This experience provides an opportunity to share knowledge with respect to building envelope and mechanical and electrical systems from a capital expenditure and product performance perspective. We have assisted numerous clients in selecting the most cost effective solutions / products with an eye on performance and operational expenditures. Having an understanding of our clients' overall needs and business model helps us develop unique strategies for Value Engineering.
INNOVATION
There are numerous ways in which a building may be constructed – resulting in what may be substantial swings in costs and schedule as well as quality of the overall product. We believe in putting the money into the envelope and interior finishes and ensuring the structure itself is the most cost effective as it can be. Through this line of thinking we have participated in many design reviews with consulting groups to assist in reviewing constructability options for cast-in-place versus hollow core solutions, as well as possible post-tensioned concrete works.
To this end, we have partnered with 3rd party consultants to bring the expertise into the design to dramatically save time and money on the structural aspects. As an example, a recent project in Saskatchewan led to an approximately 15% savings in concrete, reinforcing and forming costs after review of conventional cast-in-place reinforced concrete. A post-tensioned system allowed for a lighter structure as well as the opportunity for greater column spans helping to line up columns from the parkade to the tower, avoiding transfer slabs.
SUSTAINABILITY & LEED
Pagnotta is well-versed in sustainability and strives towards ensuring all of our projects, LEED certified or otherwise, are carried out in a manner that reduces our carbon footprint and produces less waste and overall impact on the environment. This happens at every stage of the project.
During design, through coordinated efforts with the consulting team, we assist in selecting local products  with high efficiency to reduce environmental impact. Knowing that every building must meet NECB requirements, we enjoy being part of the discussions on the best way to meet code while ensuring constructability and economical products.
During construction, strategies regarding proper waste management and reduction, product installation procedures and methodology for heating and hoarding the building are used.
Many of our personnel have had an association with LEED, and to date we have had three projects that have been considered LEED shadowed – The Pearl Luxury Condominium, The Links Residential Complex and Edgewater Towers. We are completing a LEED Certified Silver project at Windsor Terrace just west of the University Campus.
We always maintain a focus on innovative and environmentally responsible construction practices to ensure we represent best in industry standards of sustainable building practices.