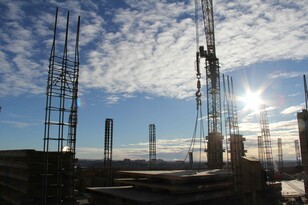 Tower cranes take up minimal space on site as opposed to other material transport options, allowing easier access and maneuverability for labourers and machinery.
A tower crane can maneuver in congested or restricted areas on site increasing the capacity and efficiency of transport as opposed to skid-steers or other ground based equipment.
Tower crane operations are quiet, allowing for decreased noise disturbances to the community and adjacent homeowners and businesses.
Tower cranes reduce the need for ground equipment therefore minimizing the impact to terrain, especially during inclement weather, leading to cleaner and easier to manage sites.
The capacity to maneuver materials and assemblies anywhere on site, including inside a structure, reduces the demand for manual labour.